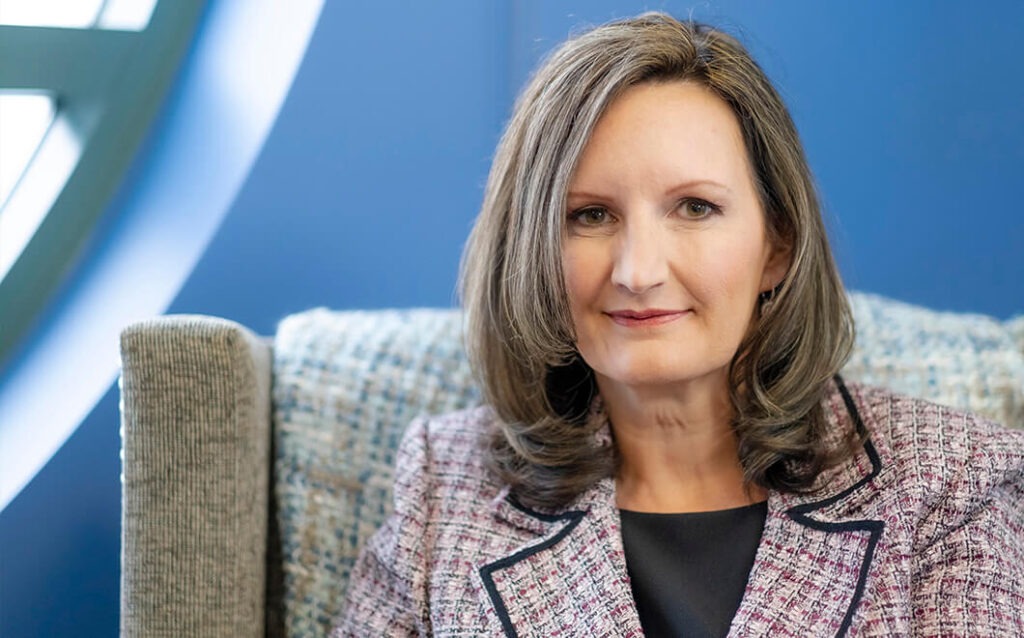 As a health care executive, Jennifer Olson (BBA '95, MBA '97) is accustomed to navigating a variety of challenges on a regular basis. She's chief operating officer of Children's Minnesota pediatric health system, which carries with it the responsibilities of a nearly $1 billion not-for-profit company with two hospitals and 12 primary care clinics.
For the past year, however, Olson has had to respond to even more challenges than usual: the COVID-19 pandemic and the social justice and equity movements that were set into motion last spring with the death of George Floyd in police custody just 10 blocks from her hospital office in Minneapolis.
Combine that with the overall challenges of the U.S. health care system and this might seem like the worst time to be a health care leader. The way Olson sees it, though, just the opposite is true. In fact, she says, there is no better time than the present.
"Health care in the U.S. is really starting to change and that's exciting—and anxiety-inducing at the same time," she says. "Some change is driven by public policy, some is driven by technology. We can't wait for that transformation to happen anymore, we have to make some of it happen."
Olson has spent almost her whole career at Children's Minnesota, a nearly century-old health system with hospitals in Minneapolis and St. Paul and a Level 1 trauma center. Children's Minnesota is one of only 35 children's hospitals in the U.S. that is independent and not associated with another system or organization. Olson's is a unique perspective on health care, from the not-for-profit model to the connection to the community, as well as the mission of a pediatric hospital.
"In pediatrics, you don't just treat the patient," she says. "A 2-year-old can't speak for themselves, so that's why the family is so important and they are part of our care team. It's a different care experience than you'd see for adults in an adult facility. Plus, we have bubbles and Popsicles."
A passion for mission-based work
As chief operating officer, Olson is responsible for all of the system's clinical areas, real estate, facilities, lab, pharmacy, marketing, and strategy.
"There's something in me that pushes toward mission-based work," she says. "The decisions I make or my team makes from a business or community perspective really make an impact in our community and in our patients' and families' lives."
Some of those decisions have been particularly tough in the past year. As a children's hospital, the actual disease of COVID-19 hasn't had a huge patient impact, but there have been ripple effects nonetheless. Hospitals nationwide canceled elective surgeries, creating financial losses, furloughs, and layoffs. In addition, Children's Minnesota didn't see patients for the typical seasonal ailments of respiratory infections and ear infections that weren't as prevalent without children being in school.
In May, Floyd's death sparked civil unrest in the neighborhood of the Minneapolis hospital. For weeks, there was a National Guard presence outside the hospital.
"It was such a dichotomy between the children's hospital with its colors and hearts across our skyways juxtaposed with an armed National Guard presence in our parking lot and a Humvee parked outside the mother-baby center," she says. "It was a siren scream that the world is not right."
The situation heightened a passion Olson has about health equity. She says 50% of Children's Minnesota patients are on Medicaid, a figure she only sees increasing.
"Health care should not be a trade-off between cost and quality or haves and have nots," she says. "That's the system we've had and it's not sufficient."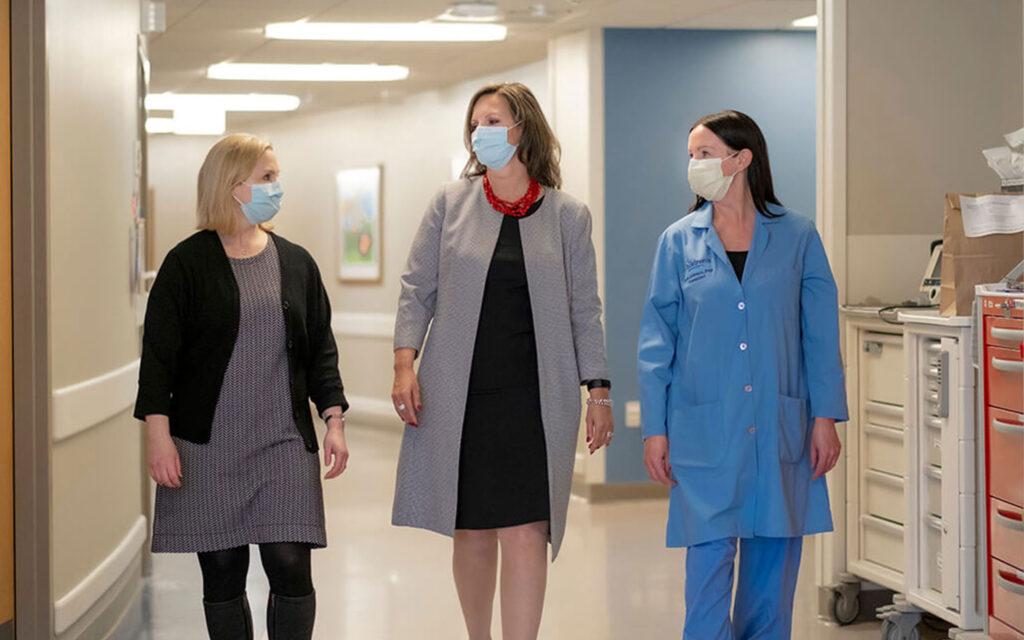 An unexpected change in career plan
All of this is light years away from what Olson thought her career in health care might be. She grew up wanting to be a doctor, a pediatrician in fact. In high school she was a volunteer—then called a "candy striper"—at a hospital in her hometown of Eau Claire, Wisconsin, and job-shadowed a family friend who was an orthopedic surgeon.
She entered the pre-medicine program at UW–Madison and dove in to campus life. In her sophomore year, though, fate stepped in to change her academic career. An avid skier and a member of the university's Alpine racing club team, Olson had a ski accident that resulted in severe injuries. She required months of hospitalization, rehabilitation, and time away from school. When she returned to campus, Olson was off the cycle for her pre-med studies and chose a different direction.
"I was experiencing health care as a patient and I didn't like it very much," she says. "I wanted to change fields and I thought I could do something with business. As I took the classes and interviewed for jobs, something just kept calling me back into health care—not as a provider but to be engaged in the industry as a whole."
After earning her bachelor's degree in finance, the pull to health care remained. She augmented her MBA's focus on management with graduate classes WSB then offered for physician executives.
"We would have a pharmacy student, a physician executive, a person from mechanical or industrial engineering, and me from the business school and we'd all be working on a group project," Olson says of her MBA studies. "That really prepared me for roles like I'm in now. That cross-functional, multi-disciplinary process is important.
"You're not an expert in everything, you've got to get input from others."
After four years as a consultant at Deloitte, Olson learned of a job at Children's Minnesota the old-fashioned way—in a newspaper ad. The idea of working at a children's hospital ticked all the boxes for Olson's career goals and she joined the staff as an operations strategist. Over the course of the next 20 years her roles and responsibilities grew. It wasn't unlike her experience at WSB—she created the trajectory she wanted to be on.
"Every job I have had within Children's, except the COO role, I've written my own job description and created a job that didn't exist," she says. "Even with the current COO role we created parts and pieces that weren't in that role previously."
What's particularly gratifying, Olson says, is knowing that the shift she made from pre-medicine to business still gives her the opportunity to change lives.
"I'm helping more than I could have as an individual provider," she says. "I'm impacting more lives as part of a team and organization, and I hope I impact the health care industry through the remaining duration of my career."
Helping WSB develop health care leaders
Olson continues to broaden her impact by advising WSB on new educational opportunities for future health care leaders. She serves on a new steering committee made up of industry and academic executives who are helping to guide the design of a new portfolio of degrees and certifications for health care clinicians and professionals seeking advanced business knowledge and credentials.
Students enrolled in the new programs will benefit from the knowledge and experience of health care leaders such as Olson, says Vallabh "Samba" Sambamurthy, Albert O. Nicholas Dean of the Wisconsin School of Business.
"Leaders of health care organizations must grapple with new technologies, adapt to changing health care policy, and embrace new business models. To manage this unprecedented change, today's clinicians are looking to gain a better understanding of the business of health care," Sambamurthy says. "We are fortunate to have the input and expertise of our alumni to guide our portfolio of degrees and certifications specific to the needs of the health care community."
The first program in this portfolio is a certificate in health care leadership that the School's Center for Professional and Executive Development will launch in Summer 2021.
Olson is proud and excited about advising WSB on how best to help health care meet its many challenges.
"It's a unique opportunity for me, a person whose boots (or heels!) are literally on the ground every day," she says. "I feel like I am living the next case study for these students."
The industry is ready for change, Olson says, and WSB could help make that happen.
"I love the foundation I had from the Wisconsin School of Business and the university. I'm still using some of the skills I learned," she says. "As I think of the new students coming out, we need their mindset. We need their sense of curiosity and their demand for change to move forward."
---