In the year-plus since the COVID-19 pandemic brought the world to a halt, much deserved attention has gone toward the medical and essential workers whose tireless efforts are making a huge impact.
And behind the scenes, professionals in less visible fields—including many Business Badgers—are also busy keeping businesses and the economy running. Alumni working in risk and insurance, whether at insurance companies, consulting firms, or in major corporations, are in the midst of seeking pandemic solutions and preparing for the future.
Brad Wood (MBA '86), senior vice president of risk management at Marriott International, is focused on building partnerships with internal and external stakeholders, to prepare not for one specific event, but to manage risk against a variety of events or challenges.
"A lot of it is practicing against what your plans are, pre-positioning yourself for success," Wood says. "The pandemic took it to another level, but you have to rely on your skill set and judgment to help your company through."
Wood is working to ensure businesses beyond his own company have a better shot at navigating a crisis like COVID-19 in the future. He is Marriott's representative on the steering committee of the Business Continuity Coalition, which works with U.S. policymakers and stakeholders to protect American jobs and limit future economic impact from pandemics. Business interruption insurance does not cover pandemics for most businesses, placing many in financial peril.
Wood and the coalition are seeking solutions, and one piece of that is the Pandemic Risk Insurance Act proposed by the House of Representatives in May 2020. The objective is to develop legislation that makes pandemic insurance available, creates a robust market with reasonable premiums, and ensures the program is sustainable.
"We can minimize the risk to business, which will minimize the risk to jobs and the economy," Wood says.
Wood did similar work in the wake of the 9/11 attacks, which destroyed a Marriott hotel at the World Trade Center and impacted hotels near the Pentagon. He worked on the Terrorism Risk Insurance Act, which through a public-private solution created a robust market for affordable terrorism insurance for businesses.
A pandemic is a different kind of challenge, says Ty Leverty, associate professor of risk and insurance and the Gerald D. Stephens CPCU Distinguished Chair in Risk Management and Insurance, because of the widespread nature of the losses and the high correlation of the risk. It will require innovative solutions, he says, and he posed the question of how to provide pandemic insurance to his MBA students in the fall.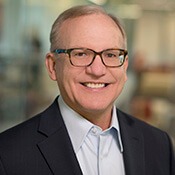 "They're online living the pandemic. It's the perfect opportunity for them to think of solutions for the next one," he says. "They weren't stuck in a box of how things are normally done. They got creative and it was great to see."
Wood spoke to students in the fall and came away impressed with their interest in seeking solutions.
"Students are going to find themselves with great opportunities when we get to the other side of this," he says. "There are so many learnings that have come out of these events."
Risk is not just about business losses. Another WSB alum's work in risk ensures that government finances work as efficiently as they should—a particularly important role in the past year in light of the CARES Act. Nicole Puri (BBA '94) is chief risk officer of the Department of the Treasury's Bureau of the Fiscal Service. She leads the bureau's implementation of enterprise risk management—a process of recognizing both risk and opportunity within an organization.
"In the federal government it's not about generating revenue and profit, it's about how do we manage risk to our mission?" Puri says. "It's less about insurance and making loans and grants but more operational. What are the risks for our bureau to be able to get out all the stimulus checks?"
Her bureau is responsible for 87% of all federal payments that are made, as well as collecting delinquent debt or revenue that agencies are owed. Challenges such as the pandemic can lead to innovation, she says, which can lead to efficiencies that better serve customers.
"That's not just agencies," Puri says, "that's taxpayers."
WSB's risk and insurance department, ranked #2 for undergraduate insurance programs by U.S. News & World Report, is also responding in ways that can help with future disruptions such as the pandemic. Leverty is part of the newly created WSB Insurance Experts Panel that surveys insurance experts to gauge the extent to which they agree or disagree on public policy issues related to topics such as business interruption insurance, health insurance, and workers' compensation. The goal, Leverty says, is to bridge the gap between academic research and policymaking.
There are no quick answers, but there is a greater awareness of how events can have a huge impact on the economy. For those working in risk, it's not just finding solutions but understanding the questions.
"The pandemic has created more interest in looking at how we take more seriously those 'unknown unknowns,' the things we couldn't have predicted but we know are out there," Puri says. "How do we get smarter about that and make sure we're ready next time? That's the constant challenge, to figure out how you recognize that and respond to it."
---