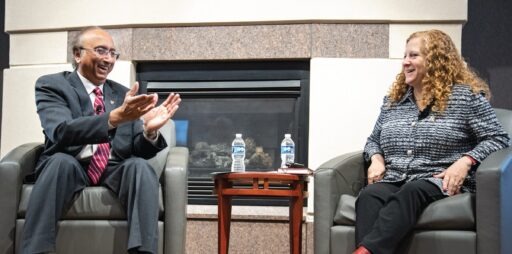 WSB Welcomes Chancellor Mnookin
Dean Sambamurthy talks with new UW–Madison Chancellor Jennifer L. Mnookin during a fireside chat for WSB faculty and staff in Grainger Hall. Mnookin offered her perspective on topics such as leadership, experiential learning, and the importance of diversity, equity, and inclusion efforts.
WSB Redesigns Executive MBA Program
Building on recent innovation with flexible offerings and curriculum modernization, WSB is redesigning the Wisconsin Executive MBA Program. The redesign follows the successful launch of the Wisconsin Professional MBA, a new hybrid program delivered through a mix of in-person and virtual learning, and is part of an effort to develop an agile, market-driven portfolio of graduate degrees.
The redesigned program responds to industry demand, where executive-level professionals show a continual need to expand their skills and elevate their leadership to take on business' shifting dynamics.
"Business is going through a rapid transformation. We want our programs to mirror the future of work and respond to the changing needs of the digital economy," says Vallabh "Samba" Sambamurthy, WSB's Albert O. Nicholas Dean.
The program will feature new and innovative courses, expanded experiential learning, additional leadership and strategy content, and increased executive mentoring. It will be offered in a more flexible delivery model, enabling students to better balance their careers and lives.
Enrollment is expected to open in Fall 2023 with classes starting in Fall 2024.
WSB Programs Earn High Rankings
WSB ranked #9 among public institutions and #19 overall in U.S. News & World Report's 2022-23 annual rankings for best undergraduate business programs.
Several academic programs also garnered high marks:
Insurance/Risk Management
WSB Multicultural Center Opens
"Our Multicultural Center is among the first in the nation specific to a university business school. And it belongs to all of us."
Kemper Foundation Director of the Multicultural Center
Diaz shared these remarks at the grand opening of WSB's Multicultural Center in September 2022. The center is designed to build community, celebrate culture, and foster a sense of belonging among Business Badgers.
New Marketing Leadership Institute Prioritizes Industry Partnerships
WSB recently launched the Marketing Leadership Institute (MLI), a dedicated center for fostering industry partnerships that propel student learning and advance marketing research and practice.
"The Marketing Leadership Institute signals the Wisconsin School of Business' renewed and growing commitment to delivering world-class marketing education and research," says Neeraj Arora, Arthur C. Nielsen, Jr. Chair in Marketing Research and Education. "This innovative new model puts industry connection front and center so that our students can experience immersive learning with top companies and have access to a wide network of marketing professionals."
The MLI offers resources for any undergraduate or graduate student interested in a marketing career. Three structural hubs—the A.C. Nielsen Hub for Marketing Analytics & Insights, the Brand & Marketing Management Hub, and the Tech Product Marketing Hub—offer community and support for the three marketing career pathways offered through the Wisconsin Full-Time MBA.
These pathways cultivate a specialized set of skills that uniquely prepare students for post-graduate opportunities. The creation of the MLI aligns with several other investments WSB has recently made in its marketing programs to better position students to address complex challenges in today's marketplace.
---