A new name for a new era: Effective November 1, the A.C. Nielsen Center for Marketing Research at the Wisconsin School of Business will become the A.C. Nielsen Center for Marketing Analytics and Insights.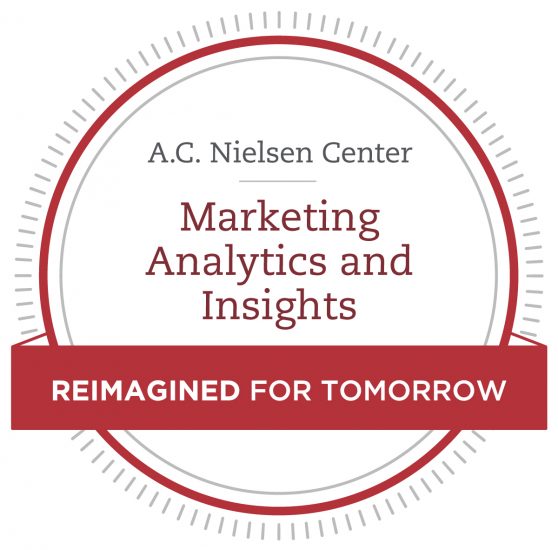 The center supports one of WSB's premier specialized MBA degrees, the MBA in Marketing Research, which will be renamed as the MBA in Marketing Analytics and Insights to mirror the A.C. Nielsen shift.
The renaming reflects the School's and the MBA specialization's greater curricular emphasis on applying data analysis and integrating insights, a move in step with the rapid changes that have occurred in both marketing and data science fields in recent years.
"The A.C. Nielsen Center has a long history of educating graduate students in the art and science of marketing research and turning those insights into action," says Kristin Branch, director of the A.C. Nielsen Center. "The new name reflects the increased importance of analytics as a skill set for discovering insights and understanding consumer behavior. The MBA degree balances those tools with strategy and a holistic business understanding, allowing our students to launch into business leadership careers."
Founded in 1990 by a gift from the A.C. Nielsen Jr. family, the center is about to celebrate its 30-year history of excellence in educating graduate marketing students in marketing research methodologies and how to turn the discovered insights into business impact.
WSB added eight new analytical courses into its curriculum this year. The new Marketing Analytics and Insights name is supported by the addition of three required classes for the MBA specialization: Data Visualization, Data Technology, and Experiments and Causal Methods. These curriculum innovations complement the existing MBA specialization built around marketing strategy, research foundations, marketing analytics, qualitative methods, new product development, and a consulting practicum course.
With an emphasis on real-world experience, MBA students gain skills and actionable insights through working directly with global firms that use the latest trends and best practices. Program graduates consistently place in some of the world's top companies including Adobe, SC Johnson, and PepsiCo.
The center cultivates deep ties with industry through its external advisory board. Comprised of insight leaders from more than 25 Fortune 500 companies, board members build relationships that mentor and create career networks for students and alumni, inform faculty's groundbreaking research, and host a biennial industry conference.
"This is an exciting time for our students to be in the field of marketing because of the recent advances in technology," says Neeraj Arora, professor of marketing, Arthur C. Nielsen Jr. Chair in Marketing Research and Education, and the A.C. Nielsen Center's executive director. "In this rapidly changing landscape, business models and day-to-day decisions are often guided by data-based insights. Marketing analytics is at the heart of such strategic and tactical decisions, and we are thrilled to introduce innovative curriculum changes so that the next generation of leaders from the Wisconsin School of Business are well prepared for the future."
---