It's the quiet that catches your attention most at Grainger Hall these days. There are footsteps here and there, a door opening now and again, and students sitting alone with their studies instead of an ocean of them moving through the halls at the same time.
The COVID-19 pandemic has brought major changes to the Wisconsin School of Business. While students and staff settled into somewhat of a routine as the Fall 2020 semester wore on, none of it has been ordinary.
Students left for spring break in March and didn't return for in-person activities until the fall semester began on September 2. In between, WSB faculty and staff, along with many campus colleagues, worked to ensure the best learning experiences for students delivered as safely as possible.
"I'm impressed, but not surprised, by the resilience of our community during this challenging time," says Vallabh "Samba" Sambamurthy, Albert O. Nicholas Dean. "We have found new ways to learn, work, and collaborate that are effective now and will enhance business education in the future."
It was a busy summer at WSB. Facilities staff prepared Grainger Hall for the return of students in ways that promoted physical distancing and safety. Instructors took part in professional development to learn to teach online. Courses were redesigned and choices made about which to teach remotely versus in-person according to UW–Madison's model for hybrid instruction.
The university's Smart Restart plan for the fall limited attendance with mandatory physical distancing for in-person classes and moved other classes online. Students living on campus are tested for COVID-19 weekly, with free testing on campus for other students and staff. Masks are required at Grainger Hall and all public spaces on campus. After Thanksgiving, in-person instruction ended and moved to virtual so students won't need to return to campus until January.
The pandemic has impacted every part of WSB. Following are the stories of how some Business Badgers have adapted during these challenging times.
---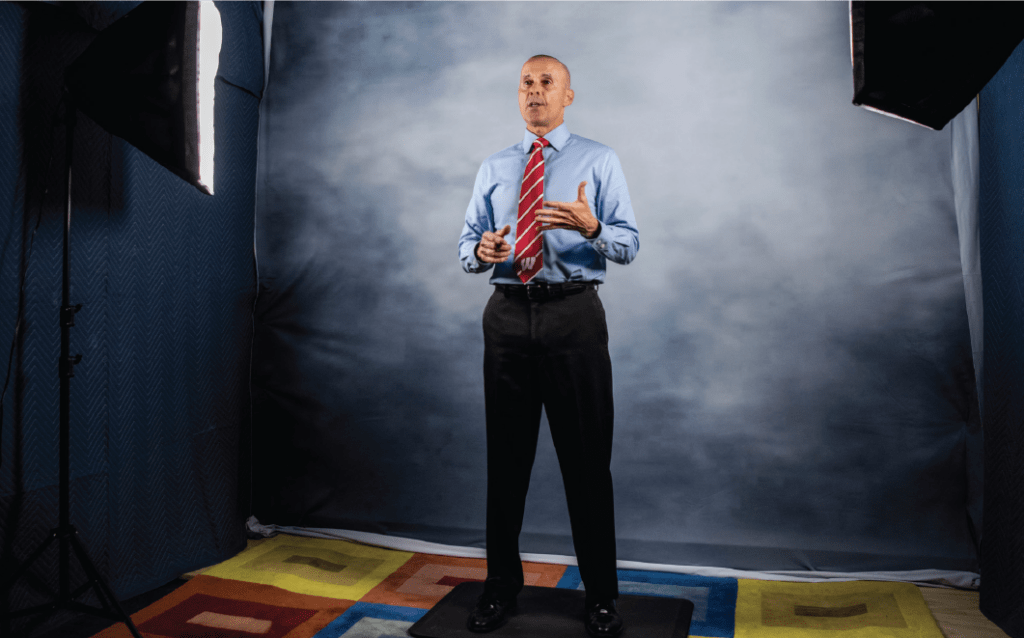 Instructors put quality first, whether teaching in-person or online
It's not quite a job shift, but changes on campus this fall have turned Mark Laplante into a video producer as well as an instructor.
Since spring, the WSB senior finance lecturer has spent time in his Grainger Hall office recording new lectures and editing old ones, ensuring they work in the blended learning environment students and faculty are in right now. He built a wooden frame for his office and covered it with blankets to deaden the sound. He put up a background and even bought a teleprompter.
"If you walked into my office now," he says, "it's just a studio."
It's all part of his commitment to improving the quality of his online lectures. For the Fall 2020 semester, Laplante is teaching two courses: three sections of a finance class that has 600 undergraduate students and a business for nonbusiness majors course that has 200 students. Both are asynchronous classes, where students learn on their own time using recorded lectures and resources provided online. The finance class offers small in-person discussion groups in keeping with the university's hybrid model of delivery this year.
Laplante's business for nonbusiness majors class has been online for six years, making him a WSB pioneer in navigating the virtual environment.
"There are a lot of technological steps to pulling off even a simple online course," he says.
Beyond technology, Laplante had to change how he approaches his lectures.
"In my in-person finance class, I punctuate a lot of course concepts and material with stories. In person, students can see my expressions, there's interaction, and they really like the stories," Laplante says. "That doesn't work in an online environment. Online, students just want you to cut to the chase and get on with the material."
Laplante says he has provided the finance class lectures and study materials online for three years, inspired by a student who missed two weeks because of a death in the family.
"There are always students who miss class for a good reason," he says.
As an early adopter of online instruction, Laplante had experience in another tool some faculty are using this semester—remote exam proctoring, which he believes serves as an effective deterrent against cheating. He had a bumpy ride in the early years of the software, but says the third-party service has improved. Artificial intelligence (AI) monitors computer activity of the students, whose computer microphones and cameras are on, too. AI will flag any suspicious activity, then Laplante can see what is going on.
At least one pandemic pivot has proved so effective Laplante plans to keep it even after the pandemic passes: online office hours. They provide flexibility for students who can't be in Grainger Hall at an appointed time.
"That's been a pleasant surprise," he says.
---
Students make the most of an atypical college experience
When Claire Liu (BBA '22) packed her bags for spring break last March, she packed so much her roommates wondered what she was doing.
"I said I thought we were going online and we wouldn't be coming back," Liu says.
That prediction proved right, and the months that followed have turned into a challenge of fortitude and stamina for students. For Liu, a triple major in actuarial science, risk management and insurance, and statistics, even the best-laid plans turned complicated.
Liu anticipated a busy fall semester with classes, actuarial exam preparation, Actuarial Club officer responsibilities, and internship applications. Because of that, she took "only" 12 credits of all remote classes.
"For my business communication class, normally you'd give peer feedback in person. Now you have to type out all your comments and it's just more work," she says. "I thought I was going to have an easier semester by taking 12 credits, but it feels like 15."
Liu hedged her bets when it came time to apply for internships, and applied for several. She will intern at Travelers Insurance in Hartford, Connecticut, next summer.
"Some of my friends in other majors have been struggling to find an internship for next summer," she says. "So I'm grateful there haven't been too many changes in the recruiting process for actuarial science majors besides everything being virtual."
Liu says she's comfortable with virtual classes, and feels safer in her apartment than on campus because she's uncertain what precautions other students are taking. She likes the flexibility asynchronous classes provide, as they allow her to spend more time home in Cedarburg, Wisconsin, and how having classes that aren't in real time helps her juggle her studies and her extracurricular activities. Her classes are a blend of those in real time and those she can complete on her own time.
"My day is theoretically pretty free," she says.
Still, there is something she very much misses with the current situation—human connection.
"I just miss social interaction," she says. "I talk with my friends on FaceTime and I'm not leaving my apartment much. I miss talking to people one on one. I miss small talk with people you don't normally talk to very much."
Liu acknowledges that her semester is not the ideal college experience, but also knows she is acquiring skills well beyond those she learns in a virtual classroom.
"In the workplace, there are always a lot of changes, even without COVID," she says. "It's good we're adapting to these things now at a younger age, because these are life skills."
---
Career advisors help job-seekers navigate the new reality
The addition of one parenthetical word sums up every shift WSB career advising staff has had to make this year. It was in the name of a webinar this fall for the Wisconsin Evening and Executive MBA programs: "How to (Virtually) Network Effectively."
This would have been an in-person, interactive event in 2019. But in 2020? Not so much.
"We haven't hosted events in the traditional face-to-face format," says Jean Sink, director of career management and corporate partnerships for the Wisconsin Evening, Executive, and Professional MBA programs.
Yet career advising continues to connect students to employers and build on the skills that will help them land an internal promotion or support their pivot into a different industry or role. One-day, in-person workshops became three webinars.
Career topics remain similar, with a few tweaks. Individual coaching on topics such as networking or résumés continues, virtually, with added strategies for job candidates to learn how the pandemic has impacted organizations they want to join.
"You need to get a sense of what you're moving into," Sink says.
Virtual career advising and coaching has helped broaden the reach of Sink and her team. What was once primarily an on-campus service to students is now more accessible to alumni, some for free and some for a nominal fee. WSB career advising has also become a resource for alumni who lost jobs during the pandemic and are looking for another.
"It's been nice to include and expand our programming reach in ways we might not have otherwise done," Sink says. "There are silver linings."
Facilities staff keeps Grainger Hall safe for students and employees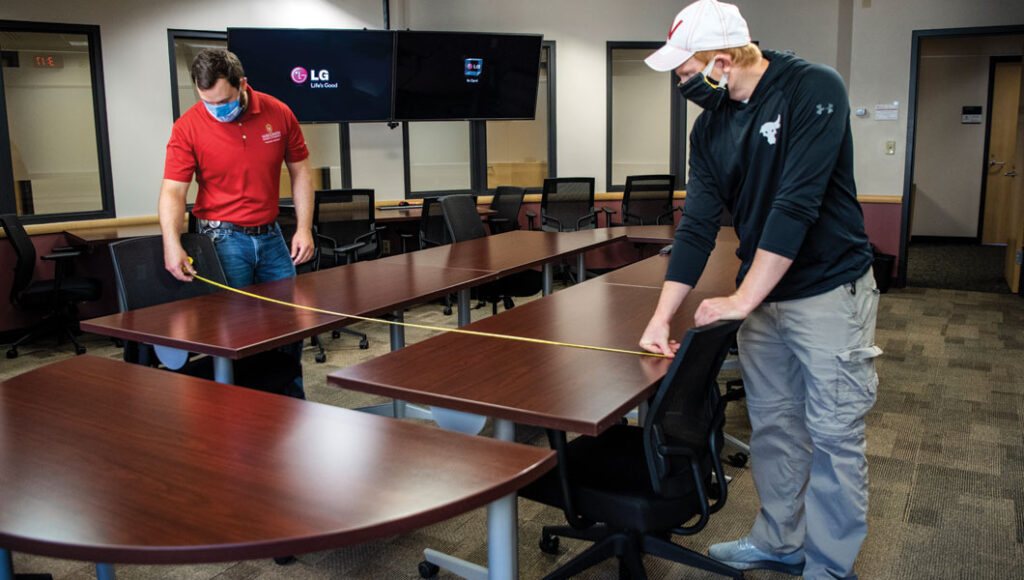 Tim Bent Jr. (left), director of facilities and event services, and Josh Crom, facilities manager, reconfigured rooms across Grainger Hall to ensure safety and physical distancing.
20+
Hand sanitizing stations in and outside Grainger Hall
61
Capacity of largest current Grainger Hall classroom (Room 1310, regular capacity of 265)
16
Dedicated custodial staff who regularly clean and disinfect Grainger Hall's public spaces
Without in-person studies, faculty tweak their academic research
Experimental researchers like control. They want to make sure research environments are free of distractions, that subjects can concentrate on assigned tasks and ignore the outside world. In other words, they prefer to work in a steady environment that is the exact opposite of 2020.
Tyler Thomas, assistant professor of accounting and information systems, traditionally uses the campus BRITE Lab for his management accounting research. The in-person lab, which pays students to participate in studies, relies on interaction and role-playing to provide data. COVID-19 restrictions shut down the lab, so Thomas had to rethink his research.
Business research often involves human interaction. In Thomas' research about goals and incentives, BRITE Lab students can serve as "managers" who make a decision and "workers" who respond to these decisions. It would be straightforward in person, but it is a challenge when the interaction is not in person.
"With the pandemic, we have to be creative and flexible in how we put together studies," Thomas says. "It's still doable, it just takes more thinking about how to get around not having people work in person."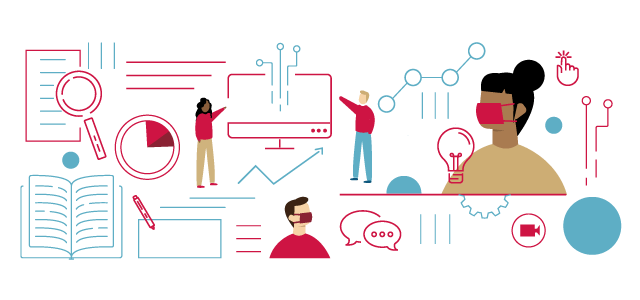 Thomas redesigned his research and moved it online. Without lab access, he tapped into another resource: WSB alumni. He reached out to a list of people he had used on a past research project. Alumni subjects filled out surveys in the "manager role," likely not a theoretical scenario for many. To gather "worker" data, Thomas used a third-party service—Amazon Mechanical Turk, or MTurk, which facilitates data collection through paid surveys.
Because Thomas or lab staff can't observe what's going on, he works questions into the survey that would make it obvious someone isn't paying attention and is just clicking through the survey.
Fortunately for Thomas, the pandemic's timing didn't upend all of his work. While he is analyzing data from the redesigned spring study, he had already planned to spend the fall semester preparing future research projects.
"We are going to have to attack this much differently now," he says.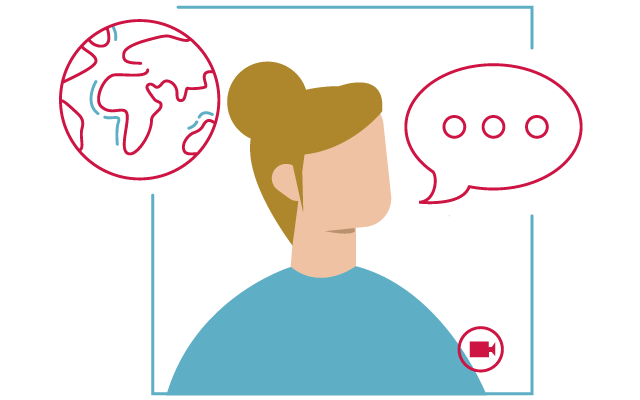 Global opportunities go remote with internships that replace study abroad
Although study abroad programs are canceled for the 2020-21 academic year, international experience is still possible through remote global internships this spring and summer. Undergraduate business students can gain global professional skills with organizations based in five international cities. Students are placed in internships based on their skills and interests and will work remotely 20 hours each week, in addition to completing a 3-credit internship course.
The internships allow students to acquire experience in their field from a global perspective as well as exposure to diverse cultures and practices.
It's also a chance to learn from international professionals and build a worldwide network—all while staying on campus.
The global internship is another example of a COVID-19 response that will continue to bring value after the pandemic ends.
"We plan to keep it in our program portfolio," says Joseph Halaas (MFS '09), WSB's director of international programs. "It is a great way for students to grow professionally and develop skills for working in a global context—even if that work is done remotely."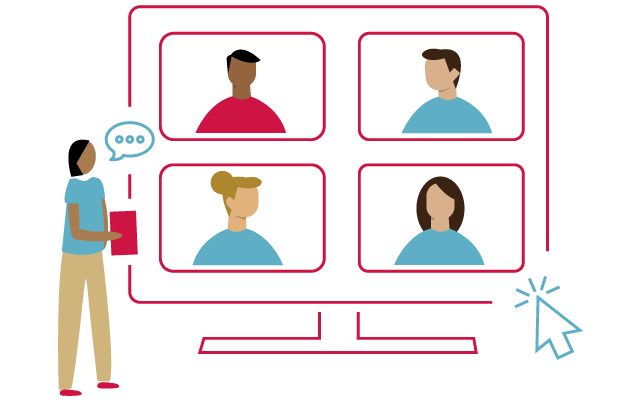 Even remotely, academic advisors are ready to guide students
Maybe, just maybe, when the weather is really awful in February, students will reach out for the academic advising they tend to shrug off at that time of year because they don't want to leave home. Now, because of shifts made due to the pandemic, they have options.
"We'll be here in a virtual platform so it will be interesting to see what happens," says academic advisor Lauren Wypiszynski (BA '12).
Wypiszynski is one of 11 undergraduate academic advisors who have worked virtually since March, talking with students face-to-face on virtual platforms like Microsoft Teams. Academic advisors help with a range of student needs including schedules, major planning, or academics. Time management has become a common topic this fall, too.
"That's a new theme because of the mix of in-person courses, virtual courses, and hybrid courses," Wypiszynski says. "Students are learning to adjust to different kinds of classes meeting at different times. We're helping them navigate that."
Students have adapted well to virtual meetings with advisors, Wypiszynski says. Their quick move to online learning in the spring semester makes virtual work almost routine now, she says, and many students improved their virtual fluency through remote summer internships.
The virtual option also helps advising staff work with students who aren't on campus this fall, including international students. Advising staff had worked remotely with students studying abroad or away from campus in the past, primarily using Skype or the phone. While advising staff is still considering what changes will remain when students return fully to campus, virtual advising is a likely candidate to become permanent.
"We're proud of the work we've done and students have appreciated it," Wypiszynski says.
Alumni resources build connections from anywhere
In a typical year, WSB's alumni relations team would host in-person events like the Homecoming Bash and networking events in cities across the country.
But this year, of course, virtual events replaced those. WSB now offers new resources and opportunities for alumni to learn, build community, and enhance their careers—from wherever they might be.
WSB Career Resources are available to alumni as they navigate a changing professional landscape.
Webinars cover a range of topics relevant to today's workplace.
Badger Executive Talks is a new virtual speaker series featuring accomplished alumni from the UW–Madison community.
Virtual Networking opportunities are a chance to connect with fellow Business Badgers from around the globe right from your home.
---