The Business of….
New Series Takes Alumni Behind the Scenes of Exciting Industries
WSB's new event series, The Business of…, gives alumni a glimpse at what it's like to work in a variety of fun jobs. The virtual events feature fast and fun interviews with Badgers working in industries such as music, food and beverage, sports, and more.
"WSB is providing another opportunity to access engaging stories from our diverse alumni base. Participants will get an exclusive look at the business behind the things they enjoy every day," says Shannon Timm (BS '08, MBA '19), director of alumni relations.
The series kicked off in February with The Business of Music and continued in May with The Business of Chocolate. Stay tuned for more events to come.
Leslie Petty Named 2020-2021 Outstanding Woman of Color
Leslie Petty, assistant dean of the evening, executive, and professional MBA programs, was one of six women honored with UW–Madison's Outstanding Women of Color (OWCA) award this year. The awards recognize exemplary women of color who have made significant impact in the areas of teaching, research, and outreach.
Petty has been influential in embedding diversity and inclusion programming into the evening and executive MBA programs during her eight years at the School. At the March 2021 awards ceremony, Petty was commended for her numerous achievements at WSB, across campus, and in the community, as well as her courageous and inclusive personal attributes.
Petty is WSB's second OWCA winner. Binnu Palta Hill, chief diversity and inclusion officer, received the award in 2016.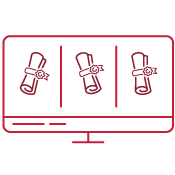 WSB Adds Three Degrees to UW–Madison Online Portfolio
WSB is adding three degrees to UW–Madison Online, the university's growing portfolio of fully online undergraduate degrees. The new degrees increase access for nontraditional students and meet demands of employers across the state and beyond.
With a focus on flexibility and quality education for adult students returning to complete a college degree, WSB's new online offerings include BBA degrees in management, human resources, and marketing.
"These new online business degrees respond to the dynamic forces of today's digital economy," says Dean Vallabh Sambamurthy. "As the needs of industry continually evolve, the Wisconsin School of Business is committed to creating agile learning opportunities and extending access to business education."
Applications are now open for these degree programs, which will launch in Fall 2021.
Day of Giving a Success
UW–Madison alumni across the globe united for Day of the Badger on April 6-7, coming together to give back, show their pride, and stay connected to the university. Thank you to the 240+ donors who gave more than $190,000 to WSB during the event. Through the generosity of an anonymous donor, gifts up to $10,000 were matched dollar for dollar. Gifts will support student scholarships to attract the best and brightest emerging leaders to our community. On, Wisconsin!
New Partnership Boosts Startups Focused on Risk
A new partnership with the Creative Destruction Lab (CDL) positions WSB to spur innovation from high-potential, technology-driven startups. Last summer, CDL partnered with UW–Madison and American Family Insurance to open CDL-Wisconsin and develop the CDL Risk program.
CDL-Wisconsin, along with all nine CDL locations worldwide, delivers mentoring for massively scalable, seed-stage, science- and technology-based startups. The CDL Risk program supports and mentors companies that transform society's ability to manage risk.
"Entrepreneurs play an important role in reshaping how corporations and society navigate risk and uncertainty," says Professor Joan Schmit, who holds the endowed American Family Insurance Distinguished Chair in Risk Management and Insurance at WSB and serves as a program lead for CDL Risk. "The startups involved in this program represent next-generation thinking that will advance this industry and deliver innovative solutions to many types of risk."
The success of CDL-Wisconsin relies heavily on the experience and expertise of faculty and entrepreneurs with strong ties to UW–Madison, as well as several alumni engaged as mentors.
---